International Competition "Rizzardo Bino": JURY
4th edition 2019, 6th edition 2022
RAFFAELLA MURDOLO
(Artistic Manager of Royal Opera House Muscat)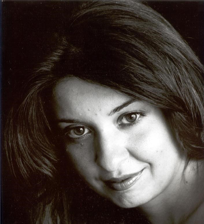 Raffaella Murdolo graduated from the "S. Giacomantonio" Conservatory in 2001 specialising in Piano with the highest marks under the guidance of M.° E. Ferrigno. She obtained at the same Conservatory in 2005 the lower diploma of composing and in vocal chamber music with the highest marks at M.° Vincenzo Salerno's class. Consecutively she sharpened her knowledge by attending Piano classes with Carlo Bruno, Cristiano Burato, A. Coen, Michele Campanella and with Amelia Felle and Elio Battaglia for the vocal chamber music; She attended in 2003 the summer courses at the "Conservatoire de Luxembourg" with Dana Protopopesku and George Mallach and won the scholarship provided by the Ministry of Foreign Affairs as the best foreign student.
In 2004 she attended the two-year course of the International Higher School of Chamber Music of the Trio of Trieste established by the United World College of the Adriatic. Already winner of numerous national and European piano competitions, she won in 2003 the selection announced by the Conservatory of Cosenza as the best soloist with the orchestra and performed at the "A. Rendano" Theatre in the inaugural Concert of the Academic year 2003/04.
In March 2007 she graduated with honours in D. A. M. S. Music address at the Unical, discussing the thesis "Annie Vivanti and her composers". In September 2003, on the occasion of the centenary of the death of G. Carducci, she was a speaker at the study days "Qual musica intorno a Giosuè", organised by the Bologna Philharmonic Academy, and the proceedings of the Conference were published by Pàtron ed. in the book "Qual musica intorno a Giosuè" by Piero Mioli.
In 2009 she obtained the MASP (Master in Management for the Show business), organised by the SDA Bocconi- School of Management- in collaboration with the "Teatro alla Scala" Academy, and in 2011 the Master in "Artistic Vocology", at the University of Bologna, with scientific representatives being Franco Fussi and Silvia Magnani.
She began working in the world of opera in 2009 in theaters such as the Arena di Verona Foundation, the Pergolesi Spontini Foundation in Jesi, and the Teatro Grande Foundation in Brescia. She has been holding since 2016 and until the present date she has been holding the position of the Artistic Manager of the Royal Opera House of Muscat.