Casa Torre Bonfadini and Pro Loco Braone have organized the first edition of the International Competition for young musicians "Rizzardo Bino".
The Competition aims to enhance young musicians and to highlight their talent, art and inspiration, encouraging cultural exchanges and promoting the area of Valle Camonica.
The event took place from Friday the 10th to Sunday the 12th of June 2016 at Casa Torre Bonfadini (Via Sant'Antonio, 25040 Braone, Italy).
It was a visibility event for the village and he called about 70 musicians to perform in the auditions and in the finals, in order to win "Rizzardo Bino" Prize.
The competition was also a moment of internationally meeting and exchange, thanks to the presence of musicians from every Country: Costa Rica, Colombia, Russia, Switzerland, United States of America, China, etc.
---
The Selection Committee was composed of:
Maestro FABRIZIO MARIA CARMINATI

, Jury President (Conductor)

Maestro LORIANO BERTI

Maestro LUCA BLASIO

Maestro PIER CARLO ORIZIO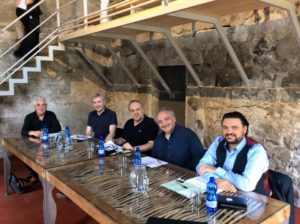 From left: Loriano Berti, Pier Carlo Orizio, Umberto Fanni, Fabrizio Maria Carminati, Luca Blasio
---
PRIZES and WINNERS:
CAT. A Non-Graduate Soloists
1st place: LAVINIA SCARPELLI (cello)
2nd place: FEDERICO SCARSO (clarinet)
3rd place: LEONARDO TAIO (viola)
CAT. B Graduate Soloists
1st place: FEDOR MALYKHIN (violin)
2nd place: DANIEL ALEJANDRO GRANADA GONZÁLEZ (flute)
3rd place EX AEQUO: DANIELE CALIA (clarinet) & FILIPPO CORBOLINI (sax)
CAT. C Chamber Music
1st place EX AEQUO: FORTEPIANO TRIO (piano, flute, cello) & MASCOULISSE QUARTET (trombone quartet)
2nd place: DISSONANZA (sax quartet)
3rd place: QUARTETTO ARCADIA (flute quartet)
SPECIAL PRIZES
"Rizzardo Bino" Prize: DUO CASTELLANO (piano four hands)
Youth Prize (Under 16): GABRIELE FORESTI (piano)
"ArteDonna PromAzioni360" Prize (Best female player): LEONORA ARMELLINI (from FortePiano Trio)
---
The finalists: